All the Bahamian islands boast abundant natural attractions. But Andros—the largest, yet most sparsely developed of all The Bahamas—is king when it comes to exceptional natural surroundings. Here, you'll find the world's third-largest fringing barrier reef; mesmerizing blue holes that some say are home to the mythical creature Lusca; the Tongue of the Ocean (a mile-deep abyss teeming with vibrant marine life) and numerous species of flora and fauna. If you're an ecotraveler, kayaker, bird watcher, hiker, snorkeler, diver or fisher, Andros should be your first stop when visiting The Bahamas.
At 2,300 square miles, Andros is the largest island of The Bahamas and the fifth-largest island in the Caribbean. Its miles of deserted beaches and freshwater lakes play host to countless species of wildlife, marine life, flora and fauna. Andros is covered with vast areas of wetlands that create channels perfect for bonefishing. In fact, many consider Andros the Bonefishing Capital of The World. When visitors feel like taking a break from all the adventure, the island offers quaint settlements and secluded beaches known for their local charm and laid-back lifestyle.
Andros is the ecotourism destination of The Bahamas because of its large pristine, terrestrial and marine ecosystems. Each year, the community dedicates the entire month of October to pay homage to their natural environment. The western side of Andros is a nursery for countless marine and wildlife species, and it also has the largest protected park system in the country. You can explore the Blue Holes National Park, with more of these unique geological formations than any other place in the world. Or, get lost in the hundreds of miles of winding creeks or wetlands, and see rare protected wildlife: the Andros iguana, more than 120 resident and migratory bird species, and 20 varieties of wild orchids and land crabs peeking from limestone crevasses. Guided tours will help you find these and other rare and memorable sights.
We can arrange package tours for you to any of these amazing sites. Fishing, exploring, bird-watching, snorkeling, diving or just beaching, contact us to enjoy our beautiful island to its fullest.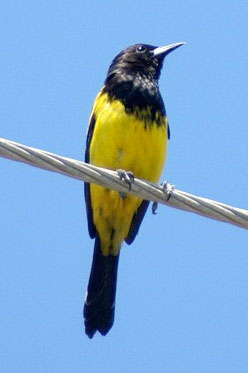 The Bahamas Oriole is only found on Andros. Other Bahamas birds you will see here: Bahamian Specialties: Great Lizard-Cuckoo, Mangrove Cuckoo, West Indian Whistling Duck, Zenaida Dove, Cuban Pewee, La Sagra's Flycatcher, Loggerhead Kingbird, Cuban Emerald, Red-legged Thrush, Bahama Mockingbird, Thick-billed Vireo, Western Spindalis, Black-faced Grassquit, Key West Quail Dove, and Greater Antillean Bullfinch
Bahamas Oriole Photo: Linda Huber